Contact:
AFamili@HartmanKingLaw.com
P: 916.379.7529
F: 916.379.7535
520 Capitol Mall, Suite 750
Sacramento, CA 95814
PRACTICE SPECIALTIES
Aminah Famili
Counsel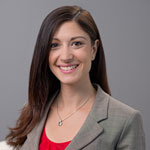 Ms. Famili focuses her practice on environmental litigation, enforcement defense and regulatory compliance counseling, with a particular emphasis on solid and hazardous waste management and environmental remediation matters. Ms. Famili has handled regulatory compliance and litigation matters arising under a variety of environmental laws including the Clean Water Act (CWA), Clean Air Act (CAA), the Resource Conservation and Recovery Act (RCRA), the Comprehensive Environmental Response, Compensation and Liability Act (CERCLA), the Emergency Planning and Community Right-to-Know Act (EPCRA), the Safe Drinking Water Act (SDWA) and state counterparts. Ms. Famili has successfully represented companies in civil and administrative enforcement proceedings, contaminated property litigation, citizen suits and administrative permitting challenges.
Representative Experience
Counseling property owners and developers on environmental liabilities and remediation obligations under CERCLA and state counterparts and developing strategic approaches to site investigation and remediation of contaminated commercial and industrial properties.
Advising corporate clients on a range of environmental compliance and permitting issues, including those pertaining to solid and hazardous waste management, air and water quality, and stormwater management.
Defending corporate clients and property owners against governmental enforcement actions, including administrative compliance orders, information requests, and cleanup and abatement orders.
Assisting retail client with negotiating resolution of alleged hazardous waste violations asserted by federal and state enforcement agencies.
Securing dismissal of administrative enforcement action filed against property owners for alleged water and sediment pollution violations and successfully defending dismissal on appeal.
Successfully appealing federal district court decision dismissing RCRA citizen suit action pertaining to volatile organic compound (VOC) contamination migrating into the Baltimore Harbor in the U.S. Court of Appeals for the Fourth Circuit.
Counseling power-focused equity firm on the environmental aspects of a $600 million acquisition involving three power-generating facilities, and managing the transfer of more than 50 facility permits.
Assisting project sponsors through permitting and environmental reviews associated with constructing and operating proposed waste-to-energy facility.
Education
University of Maryland School of Law; Baltimore, Maryland (J.D., cum laude, Certificate of Concentration in Environmental Law, 2010)
Temple University; Philadelphia, Pennsylvania (B.A., summa cum laude, Phi Betta Kappa, 2007)
Professional and Community Involvement
American Bar Association, Section of Environment, Energy, and Resources
American Bar Association, Subcommittee of Women Environmental Lawyers
Women Lawyers of Sacramento, Board Member
Admitted to Practice in