Contact:
TBowlin@HartmanKingLaw.com
P: 916.379.7683
F: 916.379.7535
520 Capitol Mall, Suite 750
Sacramento, CA 95814
PRACTICE SPECIALTIES
Tyler Bowlin
Attorney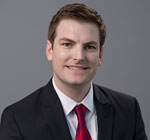 Mr. Bowlin specializes in environmental and regulatory compliance counseling, litigation and enforcement defense, site investigation and remediation and real estate transactions involving contaminated properties. From performing leak detection and repair services on oil fields throughout California to advising on one of the largest environmental cleanup projects in the United States, his experience at both the field and executive levels of environmental compliance gives him a comprehensive understanding of environmental law. Mr. Bowlin has successfully represented individuals and companies in civil and administrative enforcement proceedings, contaminated property litigation, and citizen suits.
Representative Experience
Defending corporate clients and property owners against governmental enforcement actions, including administrative compliance orders, information requests, and cleanup and abatement orders.
Advising corporate clients on a range of environmental compliance and permitting issues, including those pertaining to solid and hazardous waste management, air and water quality, and stormwater management.
Representing clients involving various topics of environmental law, including CERCLA, RCRA and the Porter-Cologne and Hazardous Substances Account Act.
Successful representation of a retail client with negotiating resolution of alleged hazardous waste violations asserted by federal and state enforcement agencies.
Project development and management of Supplemental Environmental Projects pursuant to Consent Agreement and Final Orders with U.S. EPA.
Professional and Community Involvement
Energy Bar Association
American Chemical Society
Air and Waste Management Association
Young Professionals in Energy
National Conference on Weights and Measures
American Agricultrual Law Association
Sacramento County Bar Association
Orange County Bar Association
Education
University of Oregon School of Law, J.D., 2015 (Certificate of Concentrations in both "Green Business Law" and "Environmental and Natural Resources Law")
University of California, Santa Cruz, B.A., Environmental Studies, 2011
Admitted to Practice in